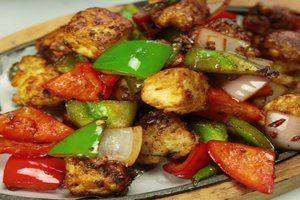 It's a lockdown Saturday evening, "The West Wing" is playing on the television, and my mind is off to Lat Mai Paneer. Lat Mai Paneer is known by various names – Dry Chilli Paneer, Dry Schezwan Paneer. But they all mean paneer dipped in a batter of cornflour and flour, fried till golden brown and ultimately doused in a mixture of soya sauce, chilli sauce and vinegar.
Indians love paneer. Paneer to the world could mean fresh cheese, but to Indians it is a go-to dish for every special occasion. This is perhaps the only Indian cheese. Indians even make this cheese fresh in their homes. Try making paneer at home. If you can endure the hours in the kitchen, you will never resort to buying paneer from stores.
Since Indo-Chinese cuisine first took it's hold in the eastern part of India (Kolkata), it's akin to the eastern cooking style. If early chinese settlers would have first settled in Punjab, Indo-Chinese cuisine would have looked different. It would have had dollops of butter and ghee in the dishes.
Since our local Inchin's Bamboo Garden restaurant closed years ago, we have been going to the one in Schaumburg. We are still in a pandemic and the drive of forty-five minutes to do a curb side pick sounded unappealing, I tried making Lat Mai Paneer. And, I am happy to inform you that it was a success!
Here's the recipe for you to try!
Ingredients Of Chilli Paneer Dry (Serves 4)
300 oz Paneer
7 Tbsp Corn Flour
7 Tbsp Plain Flour
1 tbsp Black Pepper
Salt to taste
1/2 Cup Water
4 Tbsp Garlic
4 Tbsp Ginger
4 Green Chillies
1 Red Onion
1 Green Capsicum
1 Red Capsicum
1 tsp Red Chilli Sauce
1 tsp Soya Sauce
1 tsp Vinegar
Process
Make a paste of Plain Flour and Cornflour with water
Add salt, 1 tbsp ginger, garlic to the paste,
Dip the paneer into the batter and deep fry the pieces.
Heat oil in a wok
Add cubed onions, capsicum and ginger and garlic.
Saute for a minute.
Add all the sauces and vinegar.
Exactly after a minute, add the fried pieces of Paneer.
Now, take out your favorite white colored plate, serve this delicious appetizer and enjoy!