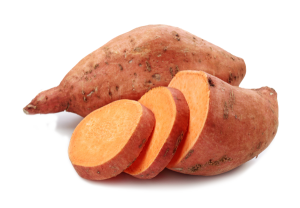 This Native American food is filled with so much nutrients that you must eat at least one portion of it daily. They are packed with potassium, calcium and vitamins A and C. It's a very good source of fiber.
A medium size sweet potato has only 103 calories and packs in 5gm of fiber, making it an ideal weight loss food.
They are loaded with beta carotine and nutrients that help with vision, skin, bones and have anti oxidants that fight cancer. Unlike potatoes, they count as a vegetable because their fiber content is dense.
One sweet potato has more vitamin C than an orange and 150% more anti oxidants than a serving of blueberries.
They are easy to make. Just pop them in the microwave for a few minutes, drizzle some olive oil and salt –and voila you have a delicious plate ready in minutes.
But if you are in the mood for something fancy try this recipe of sweet potato burgers– it's unbelievable.