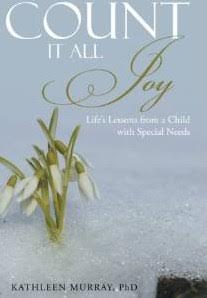 Count It All Joy: Life's Lessons from a Child with Special Needs by Kathleen Murray, PhD is an inspirational book for families and professionals who have a person with special needs in their lives. It is a mother's personal testimony of transformation from a place of fear and sadness to a place of true inner peace and beauty along the journey of raising her son with Down syndrome, autism and open heart surgeries. The book is intended to help foster a positive dialogue between medical professionals, therapists, pastors and the community at large who are part of the early diagnostic process and promote family unity in dealing with challenges.
Life's lessons are often learned in the most unexpected circumstances. Count It All Joy: Life's Lessons from a Child with Special Needs chronicles Kathleen Murray's candid account of her inner struggles after learning about her son's diagnoses of Down syndrome, autism, and a congenital heart defect. Through heart-wrenching honesty and humorous self-inspection, Kathleen presents the option to choose joy in the face of challenging circumstances in order to live a life of contentment and hope.
Kathleen goes from having difficulty looking into the eyes of her newborn child to endless moments of true inner peace in cherishing and appreciating the beauty and wonderment of her son with special needs.
Count It All Joy is a powerful memoir of revelation and transformation, brimming with insight and learning opportunities to galvanize caregivers to find joy amidst difficulties. It is a life-altering meditation about the journey of a special family that will make you laugh, cry, and deeply touch your heart—a journey toward unity, happiness, humility, and most of all, unconditional love.
Author's  Bio
KATHLEEN MURRAY is the mother of a child with Down syndrome and autism.  She holds a doctorate in Communication Sciences and Disorders from Northwestern University and has published several journal articles in her field of study.  Dr. Murray enjoys working part-time as a Speech-Language Pathologist and she lives in Naperville, Illinois with her husband, her three children, and her dog.
"An emotionally raw disclosure of the untold truths of love, patience, personal growth and family success behind raising a child with Down syndrome. An expertly articulated message of hope and courage not only for families with special needs children, but an enlightened message for all. A humbling, remarkable read."
—S. Jasmine Demos DNP, CRNP
Adult/Pediatric Nurse Practitioner
Doctor of Nursing Practice
The book is available on Amazon, Barnes and Noble, and WestBow Press
http://bookstore.westbowpress.com/…/S…/Count-It-All-Joy.aspx.