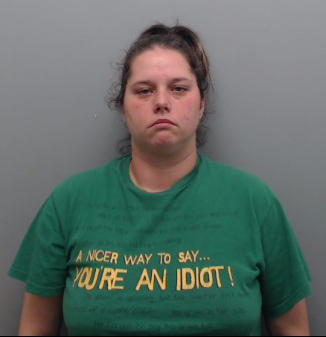 Lori Sheppard a 28-year-old woman from Arkansas couldn't pacify her ten-month-old infant. It seems her infant was suffering from teething pains. She called her mother up who advised Lori to rub some alcohol on the baby's gums.
Instead of doing that she put some bourbon in the baby's bottle and fed him. Her toddler son discovered the baby in the playpen lying unconscious. She has been charged with child endangerment and aggravated assault.
Initially she denied feeding the baby alcohol but later on confessed to putting alcohol in the baby's bottle. The blood alcohol content was .19 on the baby.
After days of treatment at the hospital, the baby recovered and has been given over to the welfare workers.
Pictured above in an unfortunate message t-shirt, Sheppard was booked into jail on the felony charges.