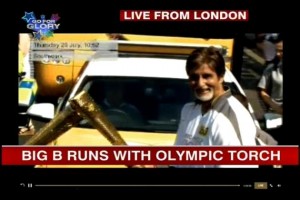 Bollywood star Amitabh Bachchan carried the Olympic Torch in London at Southwark on the final leg of its 300-metre relay on Thursday, a day before the opening ceremony of the Games.
The 32.7 mile relay of the Olympic flame had legendary personalities from all over the world and all walks of life, including Lawrence Dallaglio, Lewis Moody, Jim Anderson, Phil Packer, Darren Fitzpatrick and Tom Davis.
Bachchan was specially invited to be a part of the London Olympics.
Bachchan, 69, had earlier tweeted: