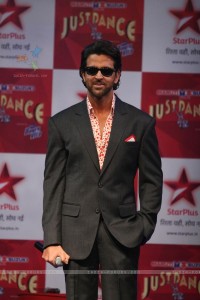 "Be really honest! It doesn't matter whether that makes you look good or bad but be sure that you are honest towards the participants of the show. That's what makes an entertaining show," says Catherine 'Cat' Elizabeth Deeley, who hosts the hit reality dance show, So You Think You Can Dance. When Cat gives advice on these matters it makes sense to pay attention. After all, she has gained immense popularity (and paved the way for UK TV exports Simon Cowell and Piers Morgan in the American TV industry) by hosting the popular show since 2006.Speaking with us from her pad in London, Cat also advised Hrithik to provide constructive criticism as a judge of a dance show. "If you can make the criticism constructive then that gets the viewers involved too. There's no point in saying that a performance was terrible but not offering a solution to make it better," she says.
Giving pointers to participants should not be a very difficult task for the nimble Bollywood star, who apparently shut himself in a room for days together so he could watch audition tapes of the show. Cat and Hrithik seem to share the same level of passion and enthusiasm for dance-based reality shows, though Cat admits she occasionally does "a bit of a shoulder shake" on the show but can't dance as well as the participants.For Cat, So You Think You Can Dance (which airs on AXN) is as much about the stories, that the dancers bring to the show, as the performances. "Dance is, of course, the larger narrative. But the audience wants to hear the dancer's stories, relate to their successes and failures, trials and tribulations. That is something we can all identify with," she believes.
Thanks to her immense experience as a reality show host, Cat has realised that it's important for participants to showcase their personality on this stage. "That's what makes people get off the couch and make that call to vote for you. The winner of the show may not be the best technical dancer but s/he usually is the most popular and entertaining," Cat points out.