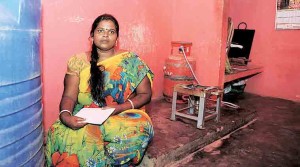 In Karnataka school, every day she writes in midday meal diary: 'No one ate today' 
Every day Radhamma takes out a diary she is required to maintain as part of the mid-day meal scheme in government schools in Karnataka and writes four words, "No one ate today." Every day for the past five months.
Radhamma is a Scheduled Caste, and the condition that she not make food is the only way she can retain her job of head cook at the Government Higher Primary School in Kagganahalli village in Kolar district of Karnataka. In January 2014, there were 118 students at the school, from Classes I to VIII. Since her appointment in February 2014, 100 have left. The remaining 18 continue on the condition, laid down by their parents, that Radhamma not make the mid-may meal.
It earns her Rs 1,700 per month, but every paisa counts for her family of seven persons belonging to the Adi Karnataka caste.