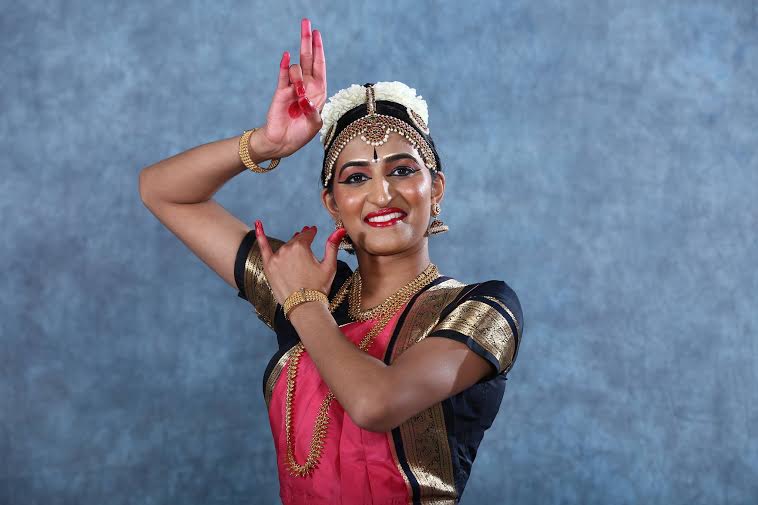 Anjali Varghese, performed solo for three hours at her  Arangetram on Saturday,  Aug. 1 at The Hemmens Cultural Center in Elgin.
Anjali, who just turned 18, recently graduated  from Maine East School and has been training under her mother for the past 15 years. She is the daughter of dancer Ruth ParijataVarghese, Artisitic Director of Kalapadma Academy.
A visual feast for the eyes, she kept the show engaging and mesmerized the audience with her dancing acumen. She  performed her steps with grace and her  adavus  were in sync  and rhythm.
The program began with Namastubhyam Ganeshaya, was followed by Alaripu, Christu Shabdam, Varnam, Chandrachooda, Malayalam Devotional song and Thillana that ended on a light and enchanting  note  with Mangalam. It was  a breeze for Anjali as she had started to learn the  dance when she was a three-year-old.
In Christu Shabdam, the story of prostitute Mary Magdalene is shown where she almost falls in love with Jesus when she tries to pacify Jesus when his followers including Judas worry what will happen when they travel to Jerusalem and that Jesus' following will be seen as a threat to the Roman Empire.  Judas is bothered that Jesus is associating with a woman of such a low profession but Jesus supports her and tells Judas that Mary  Magdalene is with him and unless Judas is without sin he should not judge the character of others.
I should mention  the Varnam in which she portrayed Lord Rama lifting the heavy bow for Sita's Swayamvara (wedding) and winning her hand for marriage. The Varnam started with Goddess Sita's  Swayamvara and ended with Sita Haran in which the demon-king  Ravana kidnaps Sita, wife of Rama.
"Varnam is the longest and most challenging item from the dance aspect and abhinaya too,"  Mr. Santosh Varghese, Anjali's father  and the President of Kalapadma Dance Academy, said.  The Varnam lasted for more than forty minutes.
Varnam is the most elaborate item of the Arangetram. It embodies Nritta (pure dance), Nritya (dance with hand gestures), and Natya (drama) of the highest order. She performed Varnam about the Nava Rasas (nine sentiments) through the life of Lord Rama.
Flutist Shri Raghunandan Ramakrishna gave music for  the Varnam. After intermission, Anjali changed her arangetram dress  to corral and  magenta from her red dress.
Mr. Santosh Varghese also compeered the show with Kelly Kurian and joked and quipped with the audience during the show.
After the show he hugged Anjali and broke into tears feeling proud of her.
Anjali currently helps her mother at many levels – teaching, choreography, performances, music selection, and editing. In 2009, she performed at  the prestigious Bharat Bhavan at the Golden Jubilee celebration of Kalapadma. In 2011, she was invited to perform along with her mother at the prestigious Tagore auditorium Bhopal at the festival organized by the government of Madhya Pradesh in honor of Guru Shri Shankar Hombal, her grandfather. She also helps train and supervises  the students who are preparing to perform their Arangetram, maiden debut  and  performances.  
Thillana was the scintillating final piece capturing sculptural  poses, complicated steps and Tirmanams (rhythmic phrases) of the dancer.
The accompanying artists included  Natuuvangam by Guru Smt. Ruth Varghese, Vocal by Smt. Vasudha Balakrishna, Mridangam by Shri S. V. Balakrishna, Flute by Shri Raghunandan Ramakrishna, Rhythm Pad by Shri Karthik Vydharti, and Drums by Alvin Varghese.
In the future, Anjali plans  to join Oakton Community College and take  dance as a career. She hopes to go to Bangalore next year for extra dance training  in one of the dance  schools.