By Arup Raha, 16 May 2015
In the book "Mumbai Fables – A History of an Enchanted City", in Chapter 3, author Gyan Prakash (professor of History at Princeton University) talks about the seduction of Bombay and how in the backdrop of industrialization and modernity, the city went on to stage its "magical visual drama". In Bombay Velvet, which derives its premise from this book, the visual drama is definitely there. The question is, how magical is it?
There are quite a few good genre-directors in India, and then there are some who challenge themselves to stretch their repertoire to make products that go beyond their usual work. Anurag Kashyap has done that with Bombay Velvet. That he is a master in the art of making gangster movies, is well known to anyone who has seen Gangs of Wasseypur (1 and 2), Black Friday or even Satya (which he co-wrote). His Bombay Velvet is different. It is about adding scale and opulence to things he has done in the past, and to that extent, he does succeed.
It starts as a story about Bombay. It is a Bombay that is on the cusp of economical, sociological and cultural transformation. It is a city that is luring everyone with its promise of becoming a 'mahanagar' (metropolis). The strain of this change is visible everywhere – in the differences between the mill-workers and the builders, in the Prohibition Act 1949 and the widespread bootlegging, and in the tearing down of an old café to be replaced by Bombay Velvet – a night-club and the hub of all action in the movie.
Amidst these changes, there is also a lot of hope, and greed. It is a Bombay that is dark, but its lights draw you. It is hard to leave, because – "Bombay ke bahar kya hai, pata hai?…India !". We have Balraj (Ranbir Kapoor), a small-time criminal and boxer, who wants to become a 'big-shot'. He and his friend Chimman (Satyadip Mishra) build their big dreams watching James Cagney gangster movies. There is Rosie Noronha (Anushka Sharma), the singer from Goa, who is in the city hoping to become a 'jubilee heroine'. Kaizad Khambatta (Karan Johar), the notorious media magnate believes in converting Nariman Point to the "Manhattan of India" and would do anything to achieve his end. Jimmy Mistry (Manish Chaudhary), the tabloid owner (a character based on real-life Russi Karanjia, editor of Blitz) wants to clean up the nexus of the powerful and bring down Kaizad. In pursuit of their goals, Balraj and Rosie willingly become pawns at the hands of Kaizad and Jimmy, and what happens after that is rest of the movie. What starts beautifully as a story about Bombay in the first half, gradually becomes what could have been an extraordinary story of love.
Right from the beginning credits, Bombay Velvet feels different in its style and presentation from anything Bollywood has ever created. The credit goes to its production design (Sonal Sawant) and music (Amit Trivedi). It is obvious why the filmmakers had released videos on the making of the sets (in Sri Lanka) for promoting the movie – there could have been no Bombay Velvet without those sets. In the book, while describing the city buildings, Gyan Prakash has written that they are not just life-less structures, but are "projections of desire". The comprehensive re-creation of the buildings and the period was very important to the making of this movie, and on that count it wins big. The music, which is mostly an ode the Jazz era, blends flawlessly with the surroundings. The songs play an important role particularly in the evolution of Balraj and Rosie's realtionship – as evident in "Dhadaam Dhadaam" written by Amitabh Bhattacharya, and sung beautifully by Neeti Mohan. The background score is top-notch. It may sound loud and clichéd to some, but that was definitely deliberate.
The performances are perfect. Ranbir Kapoor's innocent intensity is outstanding, whether it is in the boxing ring (cage?) or while expressing his love for Rosie. Karan Johar is a real surprise as an actor, pulling off the villainous demeanor with ease (perhaps it's time to switch careers, which may be a good thing for the industry!). Anushka does well – this role of course does not quite give her as much scope as she had in NH10 recently. Kay Kay Menon is in one of the smaller roles, as the good cop, and doesn't get ample opportunity to show his best but he still makes an impact. Two outstanding performances that must be noted are that of Manish Chaudhary and Satyadip Mishra. Manish Chaudhary's class act as Jimmy Mistry in Bombay Velvet will ensure that he won't be remembered only for Rocket Singh: Salesman of the Year.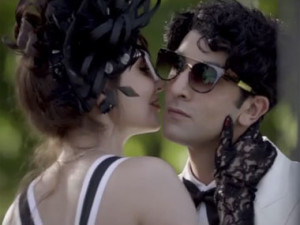 Flickering lights, blaring soundtracks, jazz, cabaret, art deco, love and seduction – it is all there in Bombay Velvet. Vengeance, blackmail, bloodshed, shoot-outs in slow motion and charred corpses are also there, in abundance. Where Bombay Velvet disappoints is story-telling. It plays out as a sequence of remarkable scenes on the screen that do not connect with the audience through emotion or by creating anticipation. Like its glorious sets, the movie presents a fabulous façade with a weak structure behind it. It is still worth a watch – if only to admire and ogle at its style and grandeur, and to appreciate the ambition with which it was made.