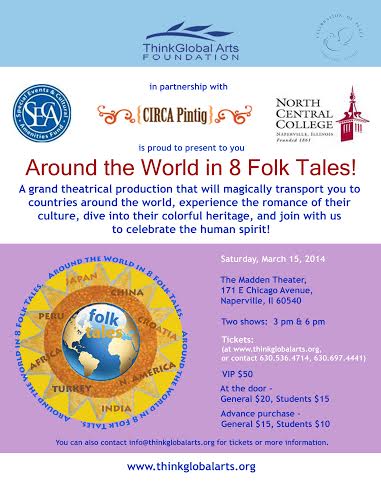 A signature event brought to you by ThinkGlobal Arts Foundation.
Around the World in 8 Folk Tales is a grand theatrical production for families and children of all ages that will magically transport you to countries around the world, allow you to experience the romance of their cultures, and join in to celebrate the human spirit.
Eight folktales have been uniquely chosen from countless strands of global folklore. These tales have been skillfully woven into a unique theatrical production.
The folktales have been selected from the United States, Japan, Peru, China, Croatia, Africa, India, and Turkey. This unique selection spans the globe, highlighting the culture of each featured country while simultaneously celebrating the universal human spirit and building bridges of cultural understanding.
EVENT ORGANIZER
ThinkGlobal Arts Foundation is a Naperville-based, Illinois-registered, not-for- profit corporation that uses the arts as a basis for the promotion of cultural awareness, peace and understanding. It creates and supports educational, cultural and artistic enterprises that foster harmony in our daily lives, in our communities and amongst people of different nations and ethnic backgrounds. Its efforts extend to promoting local and global charitable initiatives.
For the last seven years, our US-based foundation has organized citywide, events in partnership with the Mayor's Office and many prestigious organizations across Naperville. Under the umbrella title of 'Celebration of Peace', a one-of-a-kind event that draws participants and humanitarian organizations from all over the Chicago area. featured events and activities associated with peace and humanitarianism help to increase awareness that each and every one of us has the capacity to bring peace to the world around us. Celebration of Peace has become an annual tradition and enjoys significant media coverage.
ThinkGlobal Arts Foundation has been covered by Chicago Tribune and several local media,and listed by Daily Herald as one of 'The Top 10 Faces of 2008'. We invite you to browse our website at www.thinkglobalarts.org for more detailed information about our organization and past events.
Contributions to the foundation are tax deductible within the provisions of the Federal Income Tax Law.