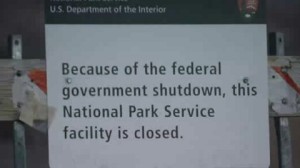 The 80-year-old man along with his 77-year-old wife can no longer live in their house. The cabin that they own is on the property of the federal government. As long as the government is shutdown they will have to live somewhere else.
The government shutdown has affected many citizens living in Lake Mead in Nevada. People are being forced out of their private homes because the homes are sitting on federal government's property.
Though, the property owners can still visit their homes but overnight stay is not allowed. In the case of this elderly couple (Spencers), they have owned this home since the 70s. They never expected this to happen.
While KNTV notes that the properties on Lake Mead are "considered vacation homes; one of the lease requirements to own a plot is people must have an alternative residence," the Spencers contend that it is still their property and they should be allowed in regardless of a shutdown.