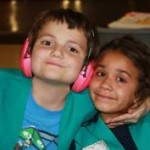 Western DuPage Special Recreation Association's (WDSRA's) Girl Scout Troop 200 will be the sponsors of the Naperville Municipal Band's Ice Cream Social during the June 13th concert in Central Park in downtown Naperville.
WDSRA provides recreational opportunities for children, teens, and adults with disabilities. WDSRA and the Girl Scouts joined together to form Troop 200 as a way to offer girls with special needs the opportunity to build courage, confidence, and leadership abilities. The troop meets twice a month in Naperville to learn new skills, create new friendships, and earn badges. Proceeds from the Ice Cream Social will be used to support troop activities.
Naperville Municipal Band Ice Cream Social sponsored by WDSRA Girl Scout Troop 200
Thursday, June 13, 2013
Ice Cream Social 6-8:30pm
Concert starts 7:30pm
Location of Ice Cream Social
Gazebo outside of the Naperville Community Concert Center
Central Park, 104 E. Benton Avenue, Naperville, IL
Contact: Amy Wilson, WDSRA Program Supervisor, at 630-681-0962 x561 or [email protected]
Caption: WDSRA Girl Scout Troop 200 members form lasting friendships.
# # # # #
WDSRA
WDSRA serves more than 4,500 children and adults with special needs through over 1,500 programs, trips, and special events each year. Additionally, WDSRA achieves over 15,000 participations through programs, inclusion services, community education and fundraising events. WDSRA offers Special Olympics and adapted sports programs, dance and art programs, as well as social clubs and camps.
In addition, WDSRA provides a full range of inclusion services for any program offered through a participating park district.  As a service to the community at large, they offer disability awareness programs that educate groups, such as schools, about living with a variety of disabilities.
WDSRA is a nationally acclaimed organization and a cooperative extension of nine park districts including Bloomingdale, Carol Stream, Glen Ellyn, Naperville, Roselle, Warrenville, West Chicago, Wheaton, and Winfield.
Thank you for your consideration!

For more information about Western DuPage Special Recreation Association, visit our website at www.wdsra.com.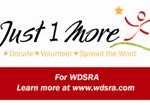 You can make an IMPACT in someone's life today by making Just 1 More a regular part of your WDSRA outreach!
Say YES to Just 1 More