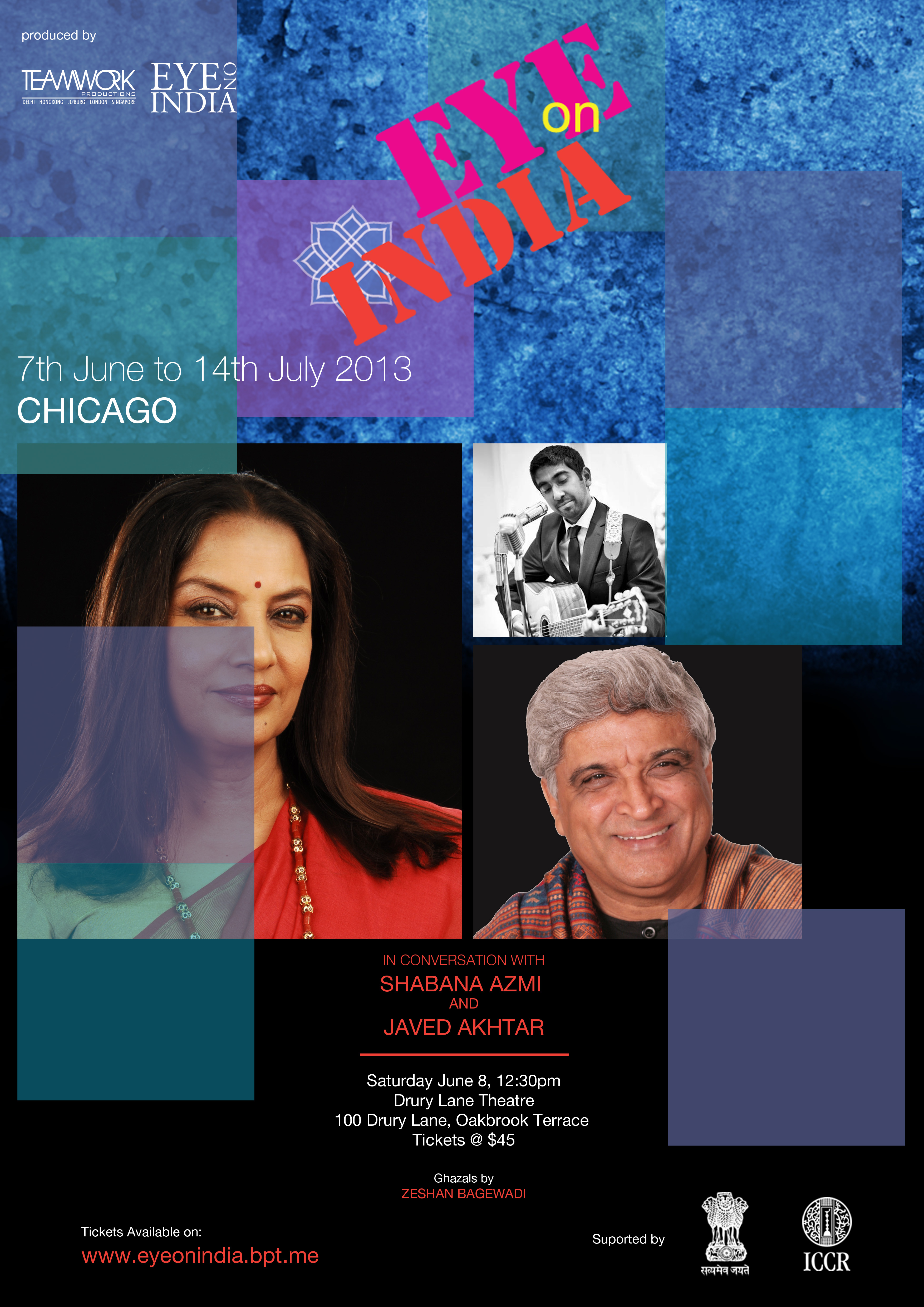 Chicago: The third edition of the annual Eye on India Festival will take place from June 7th to July 14th, 2013 throughout Chicago and the Chicago-land areas.
The festival will run for 3 weeks and will include a series of over 25 diverse events, including creative education programs, visual art shows, and innovative workshops in music, dance, theatre, literature, story-telling, yoga and wellness.
The cultural extravaganza will showcase a rich blend of Indian classical and world music along with a fascinating palette of Indian art and culture from the fields of literature, film, cuisine, dance and traditional health and wellness.
This year the festival has formed eminent partnerships with leading venues like the Reva and David Logan Centre for the Performing Arts, The Museum of Contemporary Art, Columbia College, Goodman Theatre, The Chicago Council On Global Affairs, and The Chicago Park District.
The Festival will open with award-winning film personality Shabana Azmi and popular screenwriter Javed Akhtar, recounting their experiences and anecdotes from their life and careers in the Indian film industry. This will be followed by an afternoon of Hindustani classical renditions by renowned artist Shubha Mudgal. Author Ruchir Sharma will take stage to speak about his International Bestseller Breakout Nations. Eye on India's Author Series, Words on Water, will feature panel discussions and book readings by bestselling Indian author Amish Tripathi and author Sudeep Chakravarthy.
In addition to this, the festival will also feature: Performances by Rajasthani folk artists who will take center stage at the Square Roots Festival; Preeti Vasudevan's production, Savitri, which promises to enthrall audiences; and Bollywood dance workshops by the dance company Bollywood Groove.
And finally, the Festival is proud to launch a visual art component this year,  including a conversation with award-winning photographer Susan Aurinko on June 13th and several presentations of Contemporary Indian Art by Veranda8.
The Eye on India Festival is presented by Teamwork Productions & Eye on India, a Chicago based not for profit organization. A highly versatile entertainment company, Teamwork Productions currently produces 17 performing and visual arts festivals in 21 cities across 11 countries, including festivals in Australia, Germany, Hong Kong, Italy, India, Israel, Singapore, South Africa, Spain, the United Kingdom, and the US. The highlight of their work is the immensely popular DSC Jaipur Literature Festival, an annual event that features more than 200 authors and critics from across the world over a five day period. Additional notable Teamwork events include Hay Festival in Kerala, the Bookaroo Festival for Children, the annual Mahindra Excellence in Theatre Awards (META) & Festival, the Ishara International Puppet Festival in New Delhi and Shared History- The Indian Experience, an annual festival of the performing & visual arts in South Africa.www.teamworkfilms.com.
Chicago Mayor Rahm Emanuel cited Eye on India as an exciting new addition to Chicago's Summer Festival season and encouraged its collaboration with the Department of Cultural Affairs and Special Events (DCASE). "We have increased the summer arts programming to more than 750 unique events in the city's neighborhood parks, helping to ensure that Chicagoans across the City have access to these cultural experiences."
Eye on India is dedicated to the promotion of Indian and global cultures in the United States. Founded by Anuradha Behari, a long time resident of Chicago, Eye on India is committed to promoting and creating cultural partnerships between India and Chicago.
For more information please contact:
Anuradha Behari, Director
EYE ON INDIA FESTIVAL SCHEDULE
Music
Literature
Dance
Film
Shubha Mudgal Live in Concert

Sunday, June 9 @ 2pm

Reva and David Logan Center for the Performing Arts –

915 E 60th St., Chicago

VIP Admission: $50 donation www.eyeonindia.org

Free General Admission

Ruchir Sharma Presents Breakout Nations

Thursday, June 27 @ 5:30pm

The Chicago Council on Global Affairs – 81 East Van Buren St., Chicago

Tickets: $10 members/ $20 non-members

http://www.eyeonindia.org/ruchir-sharma-words-on-water.php

Bollywood Groove Dance Workshop

Saturday, June 22nd @11am- 1pm

Museum of Contemporary Art –

220 E. Chicago Ave., Chicago

Free Admission

In Conversation with Shabana Azmi and Javed Akhtar

Musical performance by Zeshan Bagewadi

Saturday, June 8 @ 12:30pm

Drury Lane Theatre

100 Drury Lane, Oakbrook Terrace

TIckets: $45

www.eyeonindia.bpt.me

Music (continued)
Literature (continued)
Dance (continued)
Intentionally left blank
Zamin Musical Performance

Wednesday, June 19 @ 6:30 pm

Hamdard Center for Health and Human Services – 1542 W. Devon Ave., Chicago

Free Admission

Words on Water Literary Panel with Sudeep Chakravarthy, Amish Tripathi, Bulbul Bahuguna, Dr. Richard Lariviere

Saturday, June 29th @ 1-4 pm

Columbia College – 1306 S. Michigan Ave, Chicago

Tickets: $25

(www.eyeonindia.org)

Savitri, Dancing in the Forest of Death

Friday, July 12 @    7:30 pm

Saturday, July 13 @ 7:30 pm

The Dance Center at Columbia College –

1306 S. Michigan Ave. Chicago

Tickets: $25 (www.eyeonindia.org)

Intentionally left blank
Rajasthan Josh

Sunday, July 14 @ 7pm

Old Town School of Folk Music

4544 N Lincoln Ave., Chicago

Free Admission

In Conversation with Amish Tripathi

Sunday, June 30 @ 1:30 pm

Wentz Hall, North Central College

171 E. Chicago Ave. Naperville

Tickets: $20

(www.eyeonindia.org)

Intentionally left blank
Intentionally left blank
Intentionally left blank
Eye On India and Leadership Story Lab Presents An Evening of Story Exchange

Thursday, July 11 @ 7pm

The Dog's Bollox

3210 N Lincoln, Chicago

Free Admission

Intentionally left blank
Intentionally left blank
Theatre/ Performance
Visual Arts
Outreach Events
The Jungle Book

Friday, June 21 – Sunday, July 14

The Goodman Theatre – 170 N. Dearborn St., Chicago

http://www.goodmantheatre.org/season/Jungle-Book/

An Indian Sensibility: A Dialogue with Susan Aurinko, Mridula Behari, and Monica Badlani

Thursday, June 13 @ 7-9pm

Reva and David Logan Center for Performing Arts- 915 E 60th St., Chicago

Free Admission

Chicago Street Festivals

June 14 – July 8

?      Taste of Randolph

?      Summer on Southport

?      Strawberry Festival

?      Taste of Lakeview

Silk Road Rising Presents Conference of the Birds

Friday, June 28 @ 8pm

Saturday, June 29 @ 8pm

Sunday, June 30 @ 4pm

Pierce Hall

The Historic Chicago Temple –

77 W. Washington St., Chicago

Tickets: $10

http://www.silkroadrising.org/

Veranda8 Presents Contemporary Indian Art

Friday, June 14: Contemporary Indian Art @ 7-10pm (cocktail reception)

Saturday, June 15: Contemporary Indian Art @ 12-5pm (open house)

Friday, June 21: Contemporary Tribal Art from Bhopal @ 7-10pm (cocktail reception)

Saturday, June 22: Contemporary Tribal Art from Bhopal @ 12-5pm (open house)

Friday, July 12: A Night of Art and Fashion @ 9-12pm (cocktail reception)

Space 1858, 1858 W Grand Ave, Chicago

Free Admission

Night Out in the Parks – Chicago Park District

June 16– July 14

?      Kenwood Park (1330 E. 50th St.) – June 16

?      Bosley Park (3044 S. Bonfield) – June 23

?      Wilson Playground (1122 W. 34th Pl.) – June 30

?      Midway Plaisance (near University of Chicago, 1130 Midway Plaisance – July 14

Free Admission

LOVE2LAUGH presented by ABCDChicago

Wednesday, July 10th @ 6-9 pm

Joe's on Weed Street

940 W Weed St  Chicago

Tickets: $15 (www.abcdchicago.com)

Intentionally left blank
World Music and Bollywood Beats

Wednesday, June 19th @ 8 pm

Maria's Packaged Goods – 960 W 31st St, Chicago IL 60608

Free Admission