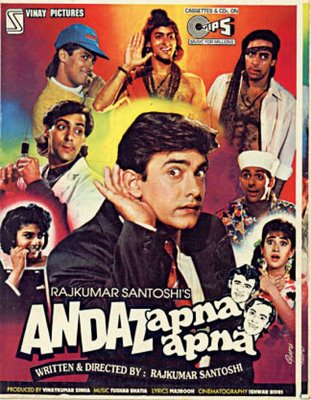 Hopefully AAA 2 will have the same cast as the first one – however if the humor is as good as the first one the star cast might not matter. Or maybe it could be a ghazani look for Aamir and dabangg look for Salman -it surely will rock then .
Andaz Apna Apna had not done well at the box office –it caught on only when people watched it on televisions –and then it never lost its popularity.
It has taken nineteen years to get a sequel for this one. Raj Kumar Santoshi will be directing it again.
AAA 1 is memorable because of the lovely, nonsensical dialogues – it was hard not to laugh.
"Na surat, na shakal, na akal. Jise dekho chala aa raha hai"
 "Unkey ek ek sawal hamarey do dod jawab…Sawal Ek Jawab Do. sawal jawab sawal jawab…chupp…….