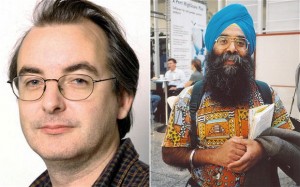 Professor Steven Rawlings, an eminent astrophysicist, suffered a fatal heart attack after being pinned to the ground in self defence by his oldest friend and fellow Oxford academic Dr Devinderjit Sivia.
The 50-year-old married Professor, who suffered a mental breakdown in 2011, attacked Dr Sivia at his home in the village of Southmoor in Oxfordshire January.
After becoming increasingly confused and agitated he threatened to kill the 49-year-old mathematician and before punching him in the face.
Fearing for his own safety and in an attempt to calm his friend down, the devout Sikh grabbed him in a headlock and pinned him tightly to the ground.
Oxford coroner, Darren Salter, was told that the hold cut off Professor Rawlings