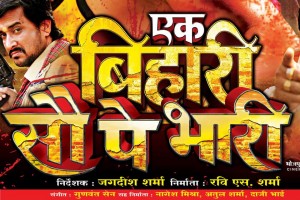 Over a dozen suspected workers of the Maharashtra Navnirman Sena (MNS) allegedly ransacked a theatre here today, protesting against the screening of a Bhojpuri film, district police said.
According to police, the group of party workers barged into the cinema hall named 'Chitralaya', which screened the Bhojpuri film 'Ek Bihari Sau Pe Bhari' and then started vandalising it.
Following the incident, there was chaos inside the theatre as members of the audience started running for their lives. However, the situation was brought under control immediately, police said.
Police have registered an offence under sections 143,147 and 149 of the IPC, but nobody has been arrested so far in this connection.
The incident has taken place against the backdrop of MNS chief Raj Thackeray's threat to brand Biharis as "infiltrators" and force them out of Maharashtra if authorities in Bihar took legal action against Mumbai policemen, who had picked up a teenager, involved in Azad Maidan violence, without informing their counterparts in that state.