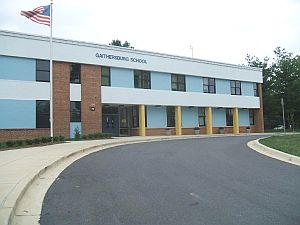 Gaithersburg Elementary School has abolished homework. Instead, students are being asked to read a book for about 30 minutes a night.
When Stephanie Brant came aboard as principal two years ago, she and her staff conducted a review of homework assignments.
"We really started evaluating the work that we sent students home with," explained Principal Brant. "We started looking, and really, it was a lot of worksheets. And the worksheets didn't match what we were doing instructionally in the classroom. It was just: we were giving students something because we felt we had to give them something."
So, Brant got permission from the school district to implement a radical experiment: the only homework assigned here is reading.
Fifth grader Ann Urrutia got regular homework here as a second-grader; then it went away. We asked her if she misses doing those math problems at home.
"We do [the math problems] in school," she explained.
Urrutia estimates she reads about 30 minutes a night.
That's the principal's goal: 30 minutes a night of reading for every student. Parents appear to be generally supportive of the abolition of traditional homework.
"When [my son] comes home, he has relaxing time. And I think kids need that relaxing time," said Luz Gomez, a parent of a third-grader at the school.
Principal Brant believes the generalized order to read something every night is sparking maturation and motivation among many students.
Parent Angela Atherton, who has a third grade daughter at Gaithersburg, said, last year, "She actually came home with a calendar. And so every night she would check off that she had done her reading homework."
In most elementary schools, the class (as a group) goes to the library once a week. Each kid picks out about two books. The kids tend to finish the books in the first night or two, and then the books spend the rest of the week in the child's backpack waiting for the next class trip to the library.
At Gaithersburg Elementary, students are allowed hall passes to go to the library every day, and they wind up reading many more books.
Principal Brant knows this "reading only" homework policy runs a risk, but so far, the standardized test scores remain solid. In the most recent round of Maryland proficiency exams (2010-2011), fifth graders at Gaithersburg Elementary School scored about 72 percent proficiency in math and about 81 percent proficiency in reading.
What makes those scores particularly impressive is the student body at Gaithersburg Elementary is largely poor and comes from homes where English is not the primary language. About 70 percent of the students come from non-English speaking homes. And 82 percent of the students come from homes where family income is so low that the students are eligible for a free or subsidized lunch.