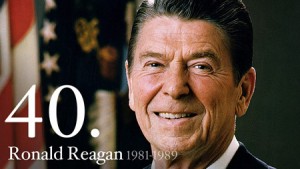 An auction for a vial allegedly containing President Reagan's blood has been called off, according to officials at his presidential foundation who had fought to halt the sale.
Instead, the vial will be donated to the Ronald Reagan Presidential Foundation, officials said Thursday.
The consignor, who bought the vial at another auction back in February for $3,550, agreed to call off the auction and donate the vial instead. The donor wishes to remain anonymous, the Reagan Foundation said.
In a statement released by the foundation, the consignor said canceling the auction was the right move after learning of the foundation's stance.
"I am a serious collector of presidential memorabilia, and have donated to museums before, and thought from the provenance supplied at the auction where I purchased that the Reagan Foundation had no interest in the item," the statement said.
But having now learned of the foundation's interest, the person said the decision to donate the vial concludes the matter.
Bidding at the website of PFC Auctions, which was holding the auction, had reached $30,086 for the vial, which was advertised as containing a sample of Reagan's blood taking after the 1981 assassination attempt.
Source://www.washingtontimes.com/
An auction house in St. Peter Port Guernsey is offering what appears to be the remains of a vial of blood from former President Ronald Reagan.
The 5-inch vial with