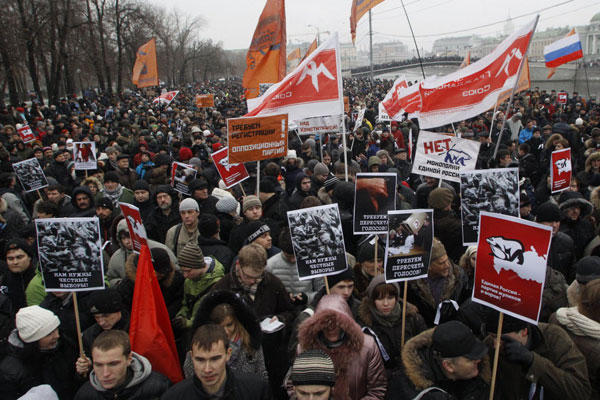 It was not a chant that many had ever expected to hear, as up to 50,000 Russians from all walks of life stood, the snow falling steadily upon them, a few hundred yards across the Moskva river from the Kremlin.
"Russia without Putin! Russia without Putin!" they roared as they craned their necks to glimpse and hear the slightly-built internet blogger who had just taken to the open-air stage.
Only last year beaten to within an inch of his life for writing something the authorities did not like, Oleg Kashin appeared to be without fear as he addressed his audience, at the biggest anti-government rally to be held in Russia for two decades.
"The most powerful weapon we have," he declared, reading from a statement, "is a sense of our own dignity. We must not take it on and off like we would a velvet jacket."
The crowd of up to 50,000 who had come to protest against last weekend's allegedly rigged parliamentary election filled a square directly opposite the citadel that houses Russia's authoritarian government, and its mood was both defiant and upbeat.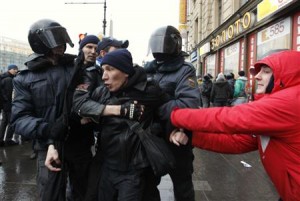 Space was at a premium and people hung off bridges, stood on benches and squeezed into nearby streets, listening as best they could even though the protest was so big that it was impossible for some to hear precisely what was being said.
"This handful of people and their media servants are trying to convince us that the falsification of votes in favour of their party of crooks and thieves is a prerequisite if we want hot water in the taps and cheap mortgages," Mr Kashin told the throng.
"They have been feeding us that line for the last 12 years. We're sick of it. It is time to break the break the chains. We are not cattle or slaves. We have a voice and we have the strength to get ourselves heard."
The crowd roared with approval. But as flakes of snow swirled in the winter air and the mercury hovered close to zero degrees Celsius, the man who had penned the statement Mr Kashin read was not there to enjoy the moment.
Alexei Navalny, a feisty anti-corruption blogger who is rapidly becoming a leading light in the opposition movement here, was languishing in a Moscow jail where he is serving a 15-day jail term for his part in an earlier opposition protest.
Boris Nemtsov, another prominent opposition leader, was there to rally the crowd though, despite being detained himself last week. Following his lead, people began chanting "Putin out!" over and over again as a police helicopter hovered ahead and more than 50,000 interior ministry troops and riot police looked on.
Such scenes, which were repeated in dozens of Russian towns and cities (albeit on a smaller scale), were unthinkable just a week ago. Mr Putin's grip on power seemed rock solid and his ruling United Russia party's dominance unassailable.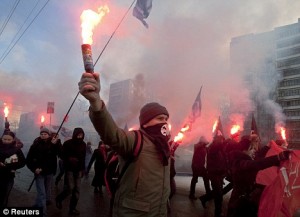 It is true there had been many opposition protests before but they were usually poorly attended, swiftly and violently broken up by the authorities, and put precious little pressure on the Kremlin.
This time it was different. The riot police could only stand and watch apprehensively as tens of thousands of people who had never protested before or even been particularly interested in politics took to the streets.
Yulia, a 29-year-old marketing manager who was there with a group of friends, said she had never been to an opposition demonstration before. "I am just sick of the same old story," she said. "I want my country to change and I want to have a say in how it changes."
Older people including Communist party supporters were there too flying the red flag adorned with a hammer and sickle and equally indignant.
The police and organisers squabbled about the precise numbers but one thing was clear: it was easily the biggest protest against Mr Putin's authority since he came to power at the end of 1999 and represents the first serious challenge to his rule.
Police estimated that at least 25,000 people had turned up, while the protest's organisers claimed attendance was pushing 100,000. Independent observers put the figure at up to 50,000.
"Things have changed," said Yevgeniya Chirikova, an opposition activist who has become one of the Kremlin's most implacable enemies since she started campaigning against a new Kremlin-backed road that has laid waste to her local forest. "A few years ago Putin really did enjoy popular support. But that is something he can no longer take for granted. He is losing support and there is no public relations campaign that exists which can help him."
Russia, she predicted, was on the brink of a new post-Putin era that would ultimately sweep the former KGB agent and his associates from power.
"A new Russia will begin," she said. "These are the most civilised protests in the world. There is no broken glass, no broken bottles and no burned out cars. We just want a new election and we will get it."
The election which has got tens of thousands of Russians from Vladivostok in the East to Kaliningrad in the West up in arms was won by Mr Putin's party last weekend in decidedly murky circumstances. The Kremlin, which has all the levers of power at its disposal, has since insisted that there were no significant irregularities and that it won the vote fair and square.
Conveniently, the head of the country's central electoral commission is a staunch Putin supporter who is on record as saying that "Putin is always right."
But international election monitors saw things differently, reporting serious ballot stuffing and said the contest was dramatically tilted in the favour of "one player.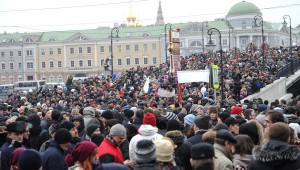 The opposition has since provided numerous documents and videos which it contends are incontrovertible proof that the poll was massively rigged in the ruling party's favour.
Officially, the United Russia party won just under 50 per cent of the vote, a result which would mean its support base had dropped by 15 per cent in the last four years, something that must have alarmed Mr Putin in itself. But the real figure, experts and the opposition say, is sharply lower.
"Take off 25 per cent and you will be getting near the truth," Leonid Kirichenko, an independent election expert, told The Sunday Telegraph. "They drew in whatever figure they fancied."
Mr Kirichenko, who took part in big protests in the 1990s, predicted that the protests would not change anything however. "It will fizzle out. All this will not lead to anything." Protesters took a different view however and endorsed a five-point programme demanding change. Top of their list was a new election, this time with genuine opposition parties like Mr Nemtsov's People's Freedom Party allowed to take part. Another key demand was for all of the more than 1,000 people who have been arrested in recent anti-Kremlin protests in Moscow and elsewhere to be released.
Most analysts believe that Mr Putin, who has announced his intention to return to the presidency for a third term at the election in May, remains safe for now but that he may be forced to make concessions if he is to keep a lid on rising discontent.
Battling voter fatigue, stalled living standards, growing intolerance of official corruption and a re-energised opposition, he has his work cut out.
Although he has seen his personal popularity rating fall somewhat in recent months, he finds himself in the peculiar position of remaining the country's most popular politician while increasingly becoming a lightning rod for the protesters' anger.
The Kremlin clearly did not expect such a backlash and has implausibly blamed the United States for stirring social unrest on Russian streets. Mr Putin's spokesman, Dmitry Peskov, admitted his boss was temporarily speechless on Saturday, explaining that the government was still in the process of formulating its position towards the protesters.
Andrei Isaev, a top official in Mr Putin's party, promised the protesters' voice would be heard but was conspicuously careful not to promise any specific changes.
"Of course people who protest against the election results or against how the election was held have a right to do so," he said. "We live in a democratic country and a democratic society," he added without irony.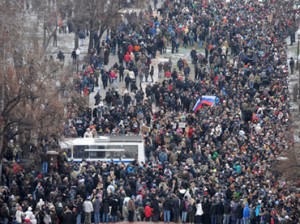 "Expressing such a point of view is really important and it will be heeded by the media, by society, and by the state." Some state media did report the protests, something they largely avoided doing before Saturday for fear of angering the Kremlin. One of the country's main news anchors had reportedly threatened not to go on air yesterday evening if his channel refused to report the protest. But in the end he did not have to make good his threat.
As darkness fell in Moscow and the protesters began to disperse, a cult Soviet-era song Changes by a group called Kino began to blare out of loud speakers. The song was an anthem for people protesting against the Soviet regime in the 1980s but has now been adopted by the anti-Putin protest movement.
The protesters said they would give the Kremlin two weeks to announce changes or be back on the streets as early as Christmas Eve. The Kremlin must now decide whether it blinks or runs the risks that the protests will gather momentum and evolve into something akin to the Arab Spring.
Asked whether events here could become a new Arab Spring-style Russian revolution Ilya Ponamaryov, an MP for the Fair Russia party and one of the protest's organisers, said: "We are not there yet. But we are going in that direction."