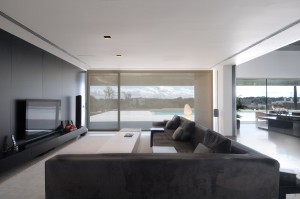 The new American home is taking shape.
Tough recent years are leaving their mark on home design, just as the housing-boom years sent square footage soaring and stamped a distinctive "McMansion" style on neighborhoods across the country. Big home builders, smaller architecture firms and even bathroom-fixture makers are adjusting to the shift toward more practical features and away from the aspirational.
The new styles are showing up in the relatively few new homes under construction as well as in the remodeling of older homes. More people are renovating as they stay put longer.
Disappearing are formal living and dining rooms, two-story foyers and second staircases. There are fewer places to stick grandfather clocks, wedding china and bowls of glass balls. Plenty of space is opening up for shoes and sports equipment, schoolwork and textbooks, wrapping paper and scrapbooking supplies. And maybe even an elevator shaft, just in case Grandma moves in or Mom and Dad stay for ages.
That doesn't necessarily mean smaller homes, though median square footage of 2,169 last year remained below the peak of 2,277 hit in 2007, according to 2010 census data.
"The spaces where everybody hangs out and that they use every day are the spaces that families actually want a little bit larger," says Tony Weremeichik, a principal at architectural-design firm Canin Associates in Orlando, Fla. "Buyers are asking, 'Why spend dollars on space I am not going to use?' There's no need for drama anymore."
"Value and need are driving the home purchase decisions, not the potential investment value," says Stephen Melman, an economist for the National Association of Home Builders.
So the soaring cathedral ceiling is out. And it's got company. Here are some fading features and the new designs that are replacing them:
THEN: Grand foyers
NOW: 'Drop zones'
Once a must-have in the McMansion floor plan, double-story entrance foyers are now seen as a waste of space and energy-inefficient, homeowners and builders say. Few suburban families actually enter their homes through the front door, so the grand entryway is a vestige of a house meant to impress others.
Replacing the foyer is the so-called drop zone. As large as 10 feet by 10 feet, these rooms are bigger versions of the mud rooms once common to homes, with places to unload clutter before it's deposited throughout the house. They feature baskets for mail, hooks for backpacks and coats, and storage for shoes and winter wear. Some even have lockers.
"Families tell us there are two times of day that are their hot buttons: getting ready for school and the evening with all their kids' homework and cooking dinner," says Scott Thomas, national director for architecture at builder PulteGroup Inc. Since laundry rooms are too small and most people use the back entry to their homes, "we've created the drop zone," says Mr. Thomas.
The drop zone is being brought into older homes, too. Washington, D.C., real-estate agent Laura McCaffrey says she finds herself increasingly building them into mud rooms, hall closets or basement walls. "A place to actually put stuff is a much more sought-after area," she says. "A closet with a pole and hanger won't do."
THEN: Formal living rooms
NOW: Open family rooms
With four of their six children out of the nest, Colleen and Doug Otto downsized last year from a 5,600-square-foot, six-bedroom home in the Fortville suburb of Indianapolis to a four-bedroom with a little more than half the space. They have no separate, formal living room. "We used to put the Christmas tree in there and that was about it," says Ms. Otto, who works as a dental assistant. "We like this [new] house because we don't feel there is any wasted space.
Builders say families want an integrated and open area encompassing the kitchen, family room and dining area. And a separate great room