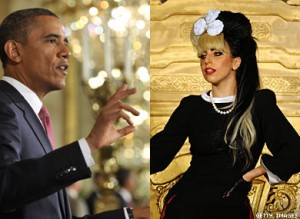 Lady Gaga attended a fundraiser with the president on Sunday night, according to a White House pool report, and she raised the issue of suicide and bullying of gay teens.
The report describes her as wearing enormous heels that had her towering over President Obama as she made her way through a photo line with her manager, having a polite exchange with the leader of the free world. Gaga reportedly wore a lacy black dress, with her hair gathered atop her head with a black veil.
During a question-and-answer session after the president spoke, Gaga thanked Obama for hosting an anti-bullying conference earlier this year and then implored everyone in the room to do what they could about the problem and the resulting suicides.
Photographers were not allowed in the room, and no other photos have yet surfaced. ABC News