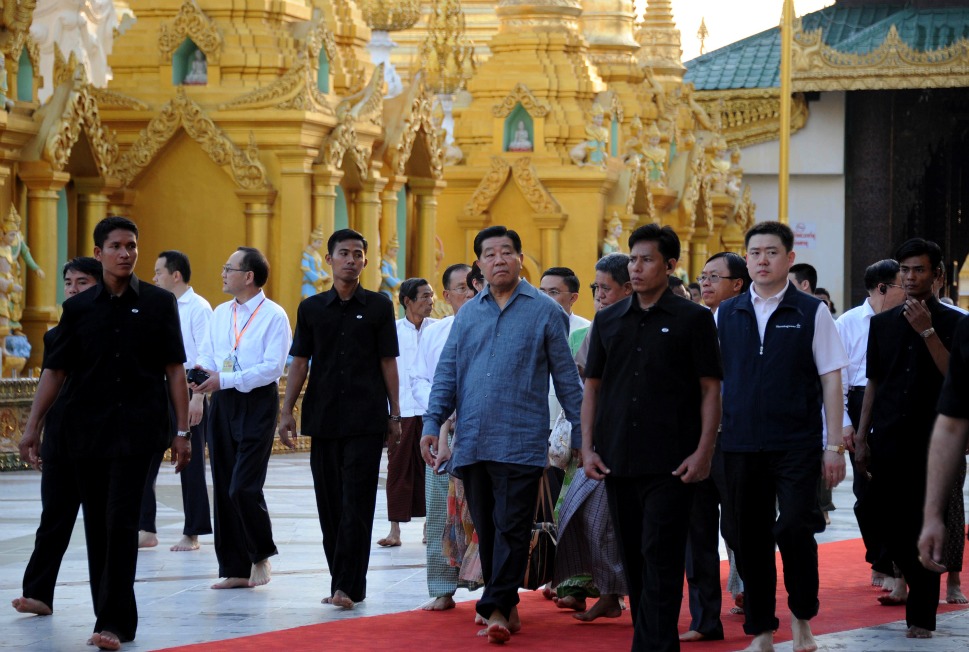 When geography changes — as when the Suez Canal joined Europe to the Indian Ocean, or when the railroads transformed the American West and the Russian East — old patterns of contact disappear and new ones take hold, turning strangers into neighbors and transforming backwaters into zones of new strategic significance. Entire groups decline or vanish; others rise in importance.
Over these next few years, Asia's geography will see a fundamental reorientation, bringing China and India together as never before across what was once a vast and neglected frontier stretching over a thousand miles from Kolkata to the Yangtze River basin. And Burma, long seen in Western policy circles as little more than an intractable human rights conundrum, may soon sit astride one of the world's newest and most strategically significant crossroads. Mammoth infrastructure projects are taming a once inhospitable landscape. More importantly, Burma and adjacent areas, which had long acted as a barrier between the two ancient civilizations, are reaching demographic and environmental as well as political watersheds. Ancient barriers are being broken, and the map of Asia is being redone.
For millennia, India and China have been separated by near impenetrable jungle, deadly malaria, and fearsome animals, as well as the Himalayas and the high wastelands of the Tibetan plateau. They have taken shape as entirely distinct civilizations, strikingly dissimilar in race, language, and customs. To reach India from China or vice versa, monks, missionaries, traders, and diplomats had to travel by camel and horse thousands of miles across the oasis towns and deserts of Central Asia and Afghanistan, or by ship over the Bay of Bengal and then through the Strait of Malacca to the South China Sea.
But as global economic power shifts to the East, the configuration of the East is changing, too. The continent's last great frontier is disappearing, and Asia will soon be woven together as never before.
At the heart of the changes is Burma. Burma is not a small country; it is as big in size as France and Britain combined, but its population of 60 million is tiny compared with the 2.5 billion combined populations of its two massive neighbors. It is the missing link between China and India.
It is an unlikely 21st-century nexus. Burma is one of the world's poorest countries, wracked by a series of seemingly unending armed conflicts, and ruled for nearly five decades by one military or military-dominated regime after another. In 1988, following the brutal suppression of a pro-democracy uprising, a new junta took power, agreeing to cease fires with former communist and ethnic insurgents and seeking to unwind years of self-imposed isolation. But its repressive policies soon led to Western sanctions and this, together with growing corruption and continued mismanagement, meant that any hope of even economic improvement quickly dimmed.
By the mid-1990s the view of Burma in the West became fairly set — a timeless backwater, brutal and bankrupt, the realm of juntas and drug lords, as well as courageous pro-democracy activists, led by Aung San Suu Kyi. A place worthy of humanitarian attention, but unconnected to the much bigger story of Asia's global rise. China, however, viewed things differently. Where the West saw a problem and offered mainly platitudes and a little aid, China recognized an opportunity and began changing facts on the ground.
Beginning in the mid-1990s, China began unveiling plans to join its interior to the shores of the Indian Ocean. By the mid-2000s, these plans were being turned into reality. New highways are starting to slice through the highlands of Burma, linking the Chinese hinterland directly to both India and the warm waters of the Bay of Bengal. One highway will lead to a brand-new, multi-billion-dollar port, facilitating the export of manufactured goods from China's western provinces while bringing in Persian Gulf and African oil, oil that will be transported along a new 1,000-mile-long pipeline to refineries in China's hitherto landlocked Yunnan province. Another, parallel pipeline will carry Burma's newfound offshore natural gas to light up the fast-growing cities of Kunming and Chongqing. And more than $20 billion will be invested in a high-speed rail line. Soon, journeys that once took months to make may soon be completed in less than a day. By 2016, Chinese planners have declared, it will be possible to travel by train all the way from Rangoon to Beijing, part of a grand route they say will one day extend to Delhi and from there to Europe.
Burma could become China's California. Chinese authorities have long been vexed by the soaring gap in income between its prosperous eastern cities and provinces and the many poor and backward areas to the west. What China is lacking is another coast to provide its remote interior with an outlet to the sea and to its growing markets around the world. Chinese academics have written about a "Two Oceans" policy. The first is the Pacific. The second would be the Indian Ocean. In this vision, Burma becomes a new bridge to the Bay of Bengal and the seas beyond.
China's leadership has also written about its "Malacca dilemma." China is heavily dependent on foreign oil, and approximately 80 percent of these oil imports currently pass through the Strait of Malacca, near Singapore, one of the world's busiest shipping lanes and just 1.7 miles across at its narrowest point. For Chinese strategists, the strait is a natural choke point where future enemies could cut off foreign energy supplies. An alternative route needed to be found. Again, access across Burma would be advantageous, lessening dependence on the strait and at the same time dramatically reducing the distance from China's factories to markets in Europe and around the Indian Ocean. That Burma itself is rich in the raw materials needed to power industrial development in China's southwest is an added plus.
Meanwhile, India has its own ambitions. With the "Look East" policy, successive Indian governments since the 1990s have sought to revive and strengthen age-old ties to the Far East, across the sea and overland across Burma, creating new connections over once impassable mountains and jungle barriers. Just north of where China is building its pipeline, along the Burmese coast, India is starting work to revive another seaport with a special road and waterway to link to Assam and India's other isolated and conflict-ridden northeastern states. There is even a proposal toreopen the Stilwell Road, built by the Allies at epic cost during World War II and then abandoned, a road that would tie the easternmost reaches of India with China's Yunnan province. Indian government officials speak of Burma's importance for the security and future development of their country's northeast — while also keeping a cautious eye on China's dynamic push into and across Burma.
Watching these developments, some have warned of a new Great Game, leading to conflict between the world's largest emerging powers. But others predict instead the making of a new Silk Road, like the one in ancient and medieval times that coupled China to Central Asia and Europe. It's important to remember that this geographic shift comes at a very special moment in Asia's history: a moment of growing peace and prosperity at the conclusion of a century of tremendous violence and armed conflict and centuries more of Western colonial domination. The happier scenario is far from impossible.
The generation now coming of age is the first to grow up in an Asia that is both post-colonial and (with a few small exceptions) postwar. New rivalries may yet fuel 21st-century nationalisms and lead to a new Great Game, but there is great optimism nearly everywhere, at least among the middle classes and the elites that drive policy: a sense that history is on Asia's side and a desire to focus on future wealth, not hark back to the dark times that have only recently been left behind.
And a crossroads through Burma would not be a simple joining up of countries. The parts of China and India that are being drawn together over Burma are among the most far-flung parts of the two giant states, regions of unparalleled ethnic and linguistic diversity where people speak literally hundreds of mutually unintelligible languages, of forgotten kingdoms like Manipur and Dali, and of isolated upland societies that were, until recently, beyond the control of Delhi or Beijing. They are also places where ballooning populations have only now filled out a once very sparsely peopled and densely forested landscape. New countries are finding new neighbors. Whereas the fall of the Berlin Wall reopened contacts that had only temporarily been suspended, the transformations under way are enabling entirely new encounters. There is the possibility of a cosmopolitan nexus at the heart of Asia.
But is a modern-day Silk Road really in the making? Until earlier this year, it was difficult to be optimistic, with Burma at the heart of the transformations and the news from Burma remaining so bad. Ordinary people were as poor as ever, political repression was the order of the day, and the Chinese projects under way seemed to be doing more to fuel corruption and devastate the environment than anything else. Fresh elections were held late last year, but they were widelycondemned as fraudulent.
Over the past several months, however, there have been increasing signs that better days might lie ahead.
This March, the junta was formally dissolved and power handed over to a quasi-civilian government headed by a retired general, U Thein Sein. President Thein Sein quickly began to exceed (admittedly low) expectations, speaking out against graft, stressing the need for political reconciliation, appointing technocrats and businessmen to key positions, inviting exiles to return home, announcing fresh peace talks with rebel groups, and even reaching out to Aung San Suu Kyi, not long before released from house arrest. Poverty reduction strategies have been formulated, taxes lowered, trade liberalized, and a slew of new laws on everything from banking reform to environmental regulation prepared for legislative approval. Parliament, after a shaky start, began to take on a life of its own. Media censorship has been