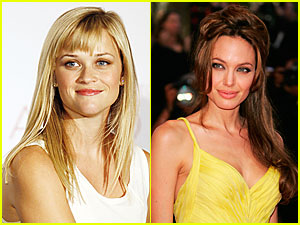 35-year-old Reese Witherspoon has been spotted house hunting in California, and it seems that only the best will do for the Legally Blonde star.

She has her eye on a $14million Malibu home that is currently inhabited by Brad Pitt and Angelina Jolie.
The actress is looking for a fresh start with her talent agent husband Jim Toth, and took him along with her two children to visit the ocean-front house this weekend.
The family looked around five different places but a source told X17Online that Brad's home came up trumps.
The actress apparently 'seemed extremely interested and visited the house for close to 45 minutes.'
The four bedroom Jolie-Pitt home is set into a hillside overlooking the Pacific Ocean and consists of two separate houses, a pool, a tennis court and expansive lush gardens.

The 4,100 square foot property also has private beach access and is set back off the Pacific Coast Highway by a long private driveway.
It is an upgrade from the $7million Los Angeles estate that Reese currently shares with her husband as well as 11-year-old Ava and seven-year-old Deacon from her first marriage to Cruel Intentions co-star Ryan Phillipe.
The couple split in 2007 after seven years of marriage and Reese tied the knot with Jim in March of this year.
Brad Pitt and Angelina Jolie are currently renting a home in Richmond with their brood while Brad films his latest movie World War Z.
The power couple have their main home base in the East Hollywood Hills area of Los Angeles, as well as owning properties in New Orleans, the South of France, and Northern Italy.