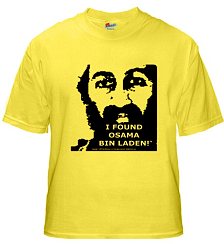 The rush for merchandise celebrating the killing of Osama Bin Laden has seen one young entrepreneur make $120,000 in less than two days.
Maurice Harary, 23, set up his T-shirt website Osamadeadtees.com as soon as he heard that the former Al Qaeda leader had been shot by U.S. Navy Seals on Sunday night.
The New Yorker raced home to his apartment to work on building the website on Sunday night and it was ready to go live at 3.30am on Monday morning.
By Tuesday evening he had already sold more than 10,000 items at $12 a time.
T-shirts bearing slogans including 'Obama killed Osama', 'Osama's back – not!' and 'Just dead it' have been flying off his virtual shelves.
Given the haste with which it was set-up, the website has a basic design.
But Mr Harary has already expanded to selling stickers and posters revelling in Bin Laden's death.
'Celebrate the death of Osama Bin Laden,