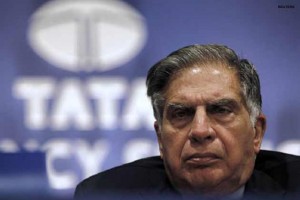 Tata Sons chairman Ratan Tata and Niira Radia were on Monday quizzed in connection with 2G spectrum scam by Parliament's PAC whose head MM Joshi said the panel found the industrialist candid and the corporate lobbyist "evasive".
The PAC will tomorrow question Reliance Communications chairman Anil Ambani, as also Etisalat DB Telecom CEO Atul Jhamb, S-Tel ceo Shamik Das and Unitech Wireless Managing Director Sigve Brekke on the same issue.
PAC quizzed Radia for two hours and Tata for three hours on issues related to the 2G spectrum allocation scam.
"It was felt by the PAC that Niira Radia was not putting facts clearly. She was not in a mood to place facts before the committee. When asked about the tapes, at first she dilly-dallied and was evasive," Joshi told reporters.
Radia's initial responses to questions about the tape were that "I cannot say this is correct", "I have not heard this tape", "I don't remember", "I do not know" and the like.
The PAC then informed Radia that she is here as a witness, several tapes are already on the website and she has already accepted before the CBI some of the conversations in the tapes.
"When she said she had heard some of the tapes, we said you give us the list of these tapes," Joshi said.
Radia also accepted that she had talked to senior journalists, politicians and industrialists "and a whole lot of other people" but contended that she was "too small a person to influence cabinet formation".
Asked if Radia maintained during the session that as a corporate lobbyist it was her job to talk to such people, Joshi said he could not reveal all details of what transpired in the meeting. He said the PAC report on the issue would make such things clear.
The corporate lobbyist contended before the Committee that some of the tapes could be doctored. She maintained in some tapes it was her voice but not all tapes are genuine, sources said.
Joshi, however, expressed happiness at the presentation made by Tata.
"I must say Ratan Tata was very candid. He answered clearly and very openly. He informed the committee that he was apprehensive about facing it. But his was a professional discussion," Joshi said.
Tata accepted that the voice in the tapes was his. Asked by the PAC about a letter written by him to DMK chief K Karunanidhi, Tata replied in the affirmative.
Joshi said wherever Tata was not sure of something, he promised to get back to the committee in "a day or two".