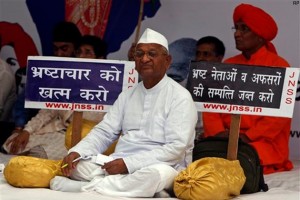 Kisan Bapat Baburao Hazare, (Marathi: ????? ???? ??????? ?????) (born 15 January 1940), popularly known as Anna Hazare, is an Indian social activist who is especially recognized for his contribution to the development of Ralegan Siddhi, a village in Ahmednagar district, Maharashtra, India and his efforts for establishing it as a model village, for which he was awarded the Padma Bhushan by Government of India, in 1992.On April 5, 2011, Anna Hazare has started a 'fast unto death', to exert pressure on the Government of India to enact a strong anti-corruption act as envisaged in the Jan Lokpal Bill, a law that will establish a Lokpal (ombudsman) that will have the power to deal with corruption in public offices.
The whole nation is moved-is this an onset of change?People from all backgrounds are standing with him and supporting his beliefs and hoping this will start a revolution to end corruption.

Shiv Sena, BJP support Anna Hazare's fast
Maharashtra opposition Shiv Sena and BJP today came out in support of social activist Anna Hazare, on the second day of his indefinite fast in Delhi, demanding implementation of Jan Lokpal Bill.
"We are supporting Hazare's agitation in the public and country's interest," Sena chief Bal Thackeray said.
However, on a pessimistic note, Thackeray said he was not aware "how many germs of corruption will be killed due to this spraying of pesticide of hunger strike."
Maharashtra BJP president Sudhir Mungantiwar, speaking at a function at state party office in South Mumbai on the occasion of the party's 32nd anniversary, said the party was committed to rid the society of corruption and will extend 'solid support' to Hazare.
Meanwhile, Hazare's agitation continues to receive strong support in his home state, with activists holding relay fast and holding demonstrations to show their support.
In Hazare's Ralegan Siddhi village in Ahmednagar district, his supporters are on relay-fast in solidarity with the soldier-turned-crusader.
In Mumbai, activists of 'India Against Corruption' movement are on a relay fast at Azad Maidan in Mumbai, to support Hazare.
They are joined by NGOs like the Jagruk Nagrik Manch, Loksatta, Bombay Catholic Sabha, Art of Living, Bharat Swabhimaan Nivas and Medha Patkar's Ghar Bachao Ghar Banao Andolan.

Anna fast forces Pawar to quit Lokpal panel
Anna Hazare's anti-corruption drive claimed its big first casualty with Union Agriculture Minister Sharad Pawar on Wednesday quitting the Group of Ministers(GoM) on corruption, saying he does not want to be "associated" with the panel anymore.Pawar, the NCP supremo, said that he has written a letter to Prime Minister Manmohan Singh informing him that he does not want to be remain with the Ministerial panel. The panel is headed by Finance Minister Pranab Mukherjee."I have told Prime Minister in writing about quitting the GoM on corruption. I have informed him that I don't want to remain anymore with the panel. I don't want to be associated with it. The chapter is closed from my side", Pawar said.

Aamir Khan says Anna Hazare deserves greater support than cricket team
Actor